Venue: Greenwich Theatre Crooms Hill London SE10 8ES
Low Down
There's something quite brilliant about the way Ricky Duke deals with the realisation of poetic language in Dido Queen of Carthage. For me, he seems to work with the metaphors that characterise mythical places and peoples with a boldness of approach that is quite breathtaking. Coming into the Greenwich Theatre and viewing the pre-set of an arrangement of large umbrellas on a circular platform shrouded in mist grabbed my imagination from the outset. The intermingling of 'gods' into human affairs is presented quite starkly as extensions of what we now understand to be psychological impulses to be loved and to belong. Elaborate narrative schema is tied together with Dukes sharp understanding of giving each action on stage a motivation towards that end.
The love story of the Trojan hero Aeneas and Queen Dido caught up in Jupiter and Venus's power play is transformed into a familiar contemporary problem of lovers yearning to find a place to exist.  But this is not the 'star-crossed' nature of tragedy of warring families as we see in Romeo and Juliet.  It is the tragedy of adult lovers who for a moment step out of their roles: Aeneas in his destined role of the founder of the glory of Roman civilisation and Dido of the limits of her role as ruler of Carthage.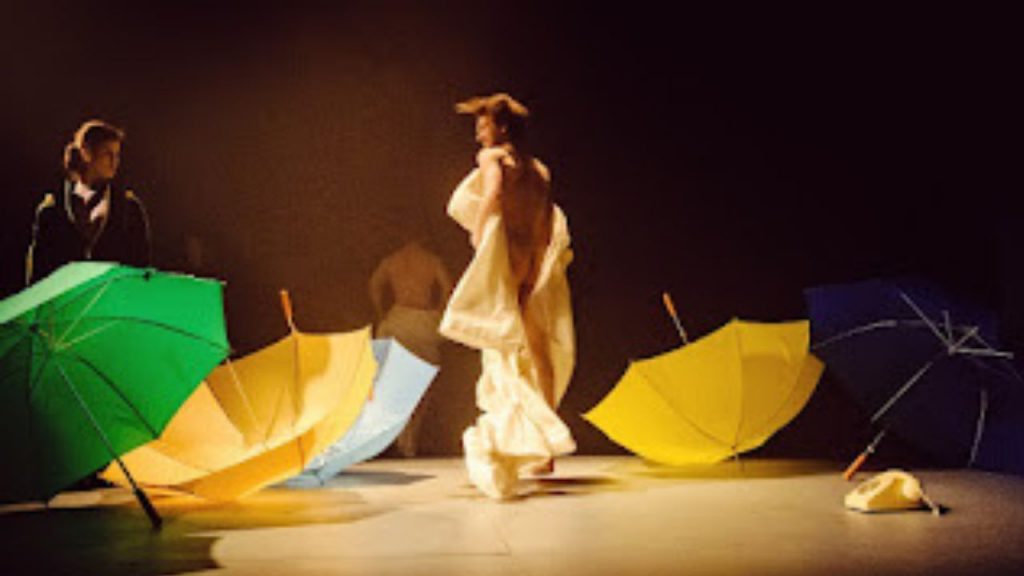 Review
I loved watching the wonderfully inventive use of the circular performance space and the startling entrances and exits of the play's characters, which seems to me to be a trademark of Duke's brilliance as a director. Nonetheless, I wished I had a theatre program in my hand that mapped the complex relationships of Homer's and Virgil's mythical heroes. The relatively lesser known and studied plays of Christopher Marlowe means that audiences would not be as familiar with his characters as those of Shakespeare's. This was my experience on the night as I grappled with understanding Aeneas' relationship with Venus his mother and his imperative to get to Rome.
The lack of a good theatre program aside, I saw how Duke took every opportunity to flag the importance of location and relationships in the dialogue. The ensemble did extremely well to naturalise the demanding monologues and dialogue. But I believe that it came at the cost of their presentation of raw emotions to which the words allude. I found there is still too much in the production that seems like working out ideas rather than showing the unbridled passion of tragic love. Ironically, this is not what the opening moments between the lusty Jupiter and Ganymede would suggest. However, the rest of the play seems quite prim and proper. For instance, the scene in the cave in which Aeneas and Dido first consummate their love is presented more like naughty romp.
I imagine that the play is still unfolding for the company's 16 players who work as an excellent ensemble. Alice Brown as Dido and Joseph Tweedale as Aeneas can be applauded for their roles as the lovers but I feel they should push themselves further in exploring the desperate motivation of their tragic situation. The interplay between Dido's rejected lover Iarbus, played by Robin Holden, and Dido's sister Anna, played by Gemma Beaton, provide a good balance which which could be portrayed with even more cruelty.
Special mention should be made of the use of a puppet for the child, and Aeneas's son, Ascanius. The presence of the manipulated puppet gives a literal dimension to the way the character is used as a hostage in the drama between Dido's desire to keep Aeneas. The other roles of the Trojan and Carthagian mortals are all strongly presented: by Danny Solomon as Sergestus, Dominic Attenborough as Hedro , Mathew Foster as Achates, Nellie McQuinn as Nurse, Stephen MacNeice as Cloanthus, Stuart Mortimer as both Prologue and Ilioneus. This can also be said of the portrayal of the gods through Elle Dillon-Reams as Cupid, Harper James as both Ganymede and Mercury, Jen Holt as Juno, Lewis Davidson as Jupiter and Lucy Hagan-Walker as Venus. I was particular impressed by the way their characterisation was spectacularly reinforced by Alice Pocock's stunning costume designs and Rachel Smith's lighting design.
I hope that Dido remains in Lazarus Theatre's repertoire for many years. I suggest that it is well on its way of becoming a stunning production which deserves to be embraced by many audiences globally who love English-speaking classical drama.
Reviewed by Dr Josey De Rossi Wednesday 15 May 2013
Website :